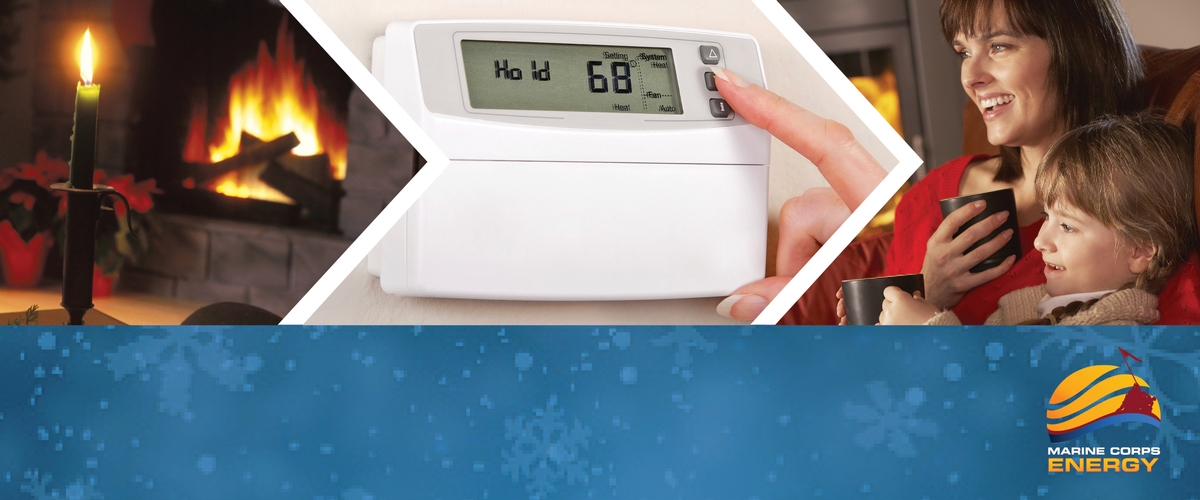 ---
It's that time of the year again – chilly days coupled with hot chocolate, reunions with loved ones, and warm season's greetings. The holiday season is filled with happiness, but also with high energy costs that can steal your holiday joy. Along with the money spent buying the perfect gift, high heating costs can really put a strain on your budget.
The average household spends about $679 on natural gas or $909 on electricity for winter heating. Reducing the use of the heater during the winter months, especially during midday, can help minimize the impacts of heating costs.
The Marine Corps spent almost $50 million on installation energy in 2016 – enough to power more than 38,500 homes for a year. As the days grow shorter and the weather gets colder (at least for those of us not stationed in Hawaii!), do your part to be as energy-smart as possible by using these simple tips:
Set your thermostat no higher than 68 degrees while you are home, and turn it down when you are away.
Keep all windows and doors tightly closed while the heat is on.
Bundle up with a sweater or a blanket instead of turning up the heat too high if you feel chilly.
Open curtains on south-facing windows during the day to allow sunlight to naturally heat your home, and close them at night to reduce the chill you may feel from cold windows.
A few more ideas: When buying an electronic or appliance as a gift, make sure it is Energy-Star certified. Also try using efficient, higher quality light-emitting diode (LED) holiday lights to reduce the cost of decorating your home. We wish all Marines and their families a Merry Christmas and happy holiday season. We are not asking that families sacrifice comfort, but rather use only what you need.
To learn more about lowering your household expenses contact your installation's Personal Financial Management Program.