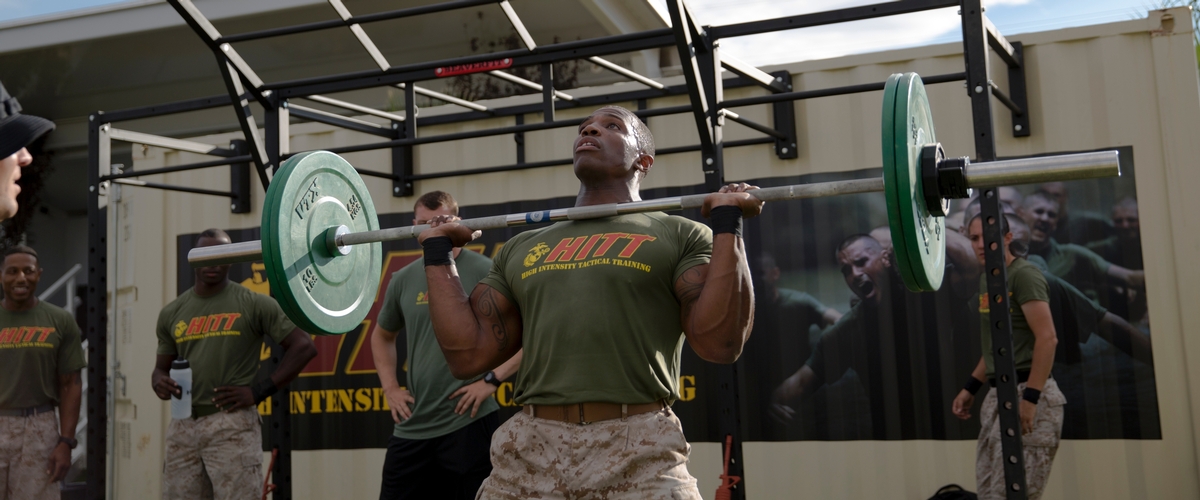 ---
For a full schedule of events for the 2016 High Intensity Tactical Training (HITT) Athlete Championship, click here.
It's that time of year again as Marine Corps officials finalize preparations for the Second Annual High Intensity Tactical Training (HITT) Athlete Championship from Aug. 15-18, 2016, at the Marine Corps Air Station Miramar, San Diego, California.
Marines all over the world are competing at their air station or installation for the chance to participate in the championship and be selected as one of the top 32 Active Duty Marines. The top male and female winners from each installation will compete with each other at the main event. One male and one female Marine will be crowned the 2016 "Ultimate HITT Athlete."
"The HITT Championship will bring together some of the most elite athletes in the Marine Corps" said Ryan Massimo, HITT Program Manager. "The championship events are designed to showcase a combination of tactical skills with athleticism during a grueling three day schedule consisting of five events that will challenge competitors on their mental and physical capabilities."
The five events include strength conditioning activities such as running, lifting, and jumping. All activities support combat readiness and increasing physical capabilities. "One of our favorite aspects of this competition and what we feel sets it apart from other events of its kind, is the fact that Marines may be introduced to new challenges year after year," said Massimo.
HITT is focused on developing and maintaining a Marine's physical resiliency and combat readiness. There are 150 pre-designed workouts for any combat conditioning leader and fitness specialist. Phases of the workout include pre-deployment, deployment, and post-deployment; or you can build your own workout templates. HITT is endorsed by the National Strength and Conditioning Association's (NSCA) - Tactical Strength and Conditioning (TSAC) Department. Marines can begin preparing for the event by staying fit through their normal Physical Training (PT) activities. This is done by using a HITT Locker.
The HITT program is available through a website and mobile application providing Marines with a virtual resource to implement the program. The free mobile app, which can be downloaded to any mobile device by visiting the Apple App Store or Android Google Play, includes more than 450 exercises with execution instructions.
SSgt Lauren Schoener, an agent with the Federal Bureau of Investigation from Marine Corps Air Station Yuma, Az. and Cpl Joshua Boozer from 29 Palms took the title from their competitors last year. HITT's top female was inspired to push through to the end and found herself in first place by the end of day two. "My secret to success is to be tenacious, consistent, and always try anything twice," said SSgt Schoener. If you're preparing to compete this summer, you can find more tips from last year's competitors in our article Secrets of Success from the Marine Corps Top Athletes.
To learn more about the HITT Championship and the High Intensity Tactical Training program, click here.