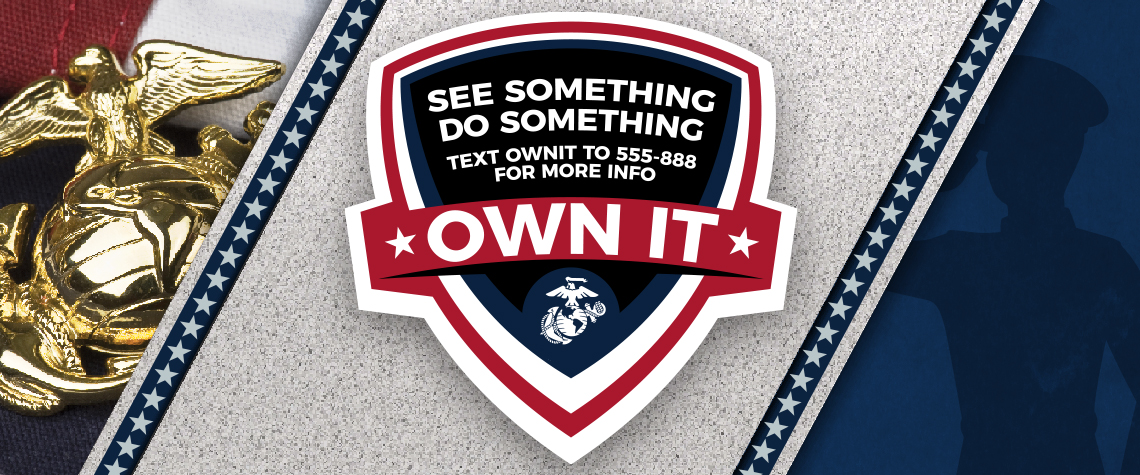 ---
In a brief video message to Marines, Sgt. Maj. of the Marine Corps, Ronald Green, kicked off the Own It! campaign saying, "we are all responsible for our own actions but, protecting the honor of the Marine Corps is a family business, and we all play a role." Own It! is a nine-week awareness campaign designed to start a discussion about getting off the sidelines and doing something, if you see something. Marines and their families can follow the campaign and join the conversation by texting OWNIT to 555-888, or visiting the campaign website and social media channels.
Through these efforts, the Sgt. Maj. of the Marine Corps builds on the Protect What You've Earned campaign, encouraging Marines not to, "standby and let the memories of our heroes get erased. If you see something, do something about it. Even a little bit of straight talk can make someone think twice before they act."
The campaign's message of see something, do something, and the responsibility Marines have to help maintain the honor of the Marine Corps and other Marines, is illustrated through video segments from ABC News' show, What Would You Do? Each segment features a scenario that forces bystanders to choose to intervene or walk away. The segments are introduced by Marines, and conclude with resources to guide Marines through these tough situations.
By joining the text campaign participants will receive links to resources that will guide them on how to have a tough conversation with a Marine Corps family member on situations such as suicide, consent, rejection, bullying, substance abuse, as well as family issues including relationship red flags, divorce, child abuse, the unexpected death of a loved one. These tip sheets are also available at
www.usmc-mccs.org/ownit.
Sgt. Maj. of the Marine Corps Ronald Green concludes his message by saying, "look around and see who might be struggling and ask, how can I help?"