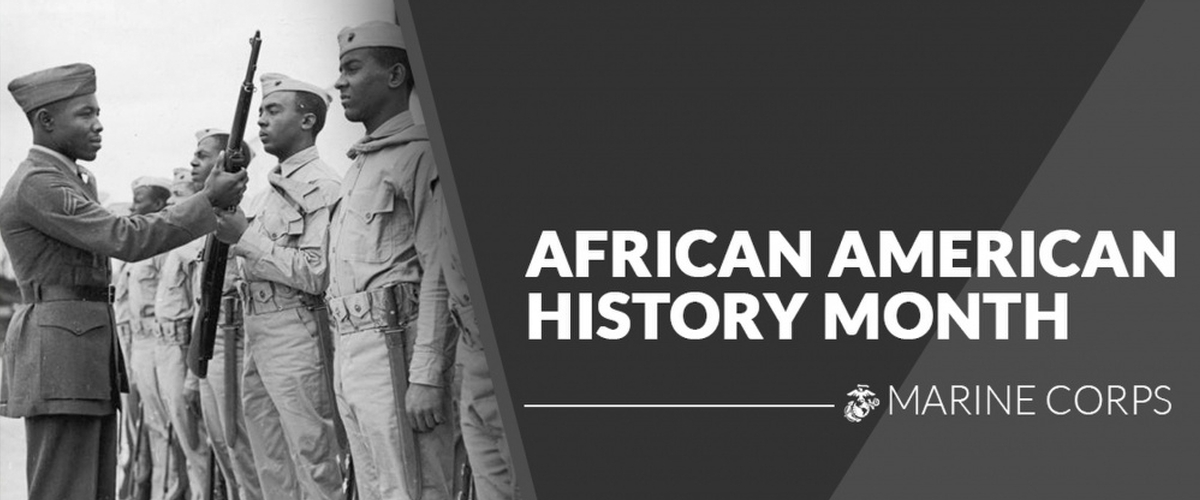 ---
Throughout February, communities will take the opportunity to honor the history and ongoing contributions of Black Americans to the success and development of the United States. In the Marine Corps, the 2020 observance theme is "Honoring The Past, Securing The Future." Here is some interesting history about African Americans in the Marine Corps.
On June 1, 1942, the recruiting of Black Marines began. In November 1945, Captain Frederick C. Branch from Charlotte, NC, became the first African American to be commissioned (as a 2nd Lieutenant) in the Marine Corps Reserve. Later, in 1948, 2nd Lieutenant John E. Rudder became the first Black Marine officer to commission on active duty with the Corps. The first Black aviator in the Marine Corps – Lieutenant General Frank E. Petersen, Jr. – began his career by enlisting in the Navy. After receiving his pilot wings in 1952, he went on to earn the Distinguished Flying Cross as a 21-year-old 2nd Lieutenant. He was bestowed this honor for leading a division of attack aircraft on a close air support mission against heavily defended enemy positions situated within proximity of friendly frontline units in June 1953. In 1968, he served in Vietnam commanding Marine Fighter Attack Squadron 314 (VMFA-314), the renowned "Black Knights," thus becoming the first black officer to command a tactical air squadron. During February of 1979, Petersen became the first black Marine Corps General Officer upon his promotion to Brigadier General, and in 1986 as a Lieutenant General, he became the Commanding General of Marine Corps Development and Education Command, now known as the Marine Corps Combat Development Command. LtGen Petersen retired in 1988 after 38 years of honorable military service. More information about his career can be found in MARADMIN 033/20 about Black History Month in the Marine Corps.
Today, the Marine Corps celebrates these contributions year round, through programs like the Frederick C. Branch Leadership Scholarship, awarded to selected midshipmen attending a Historical Black College or University (HBCU) that hosts Navy Reserve Officer Training Corps (NROTC) on its campus. To learn more about the Marine Corps' African American legacy, Medal of Honor recipients, and U.S. military history, visit the Library of the Marine Corps or check out the Commandant's Professional Reading List.