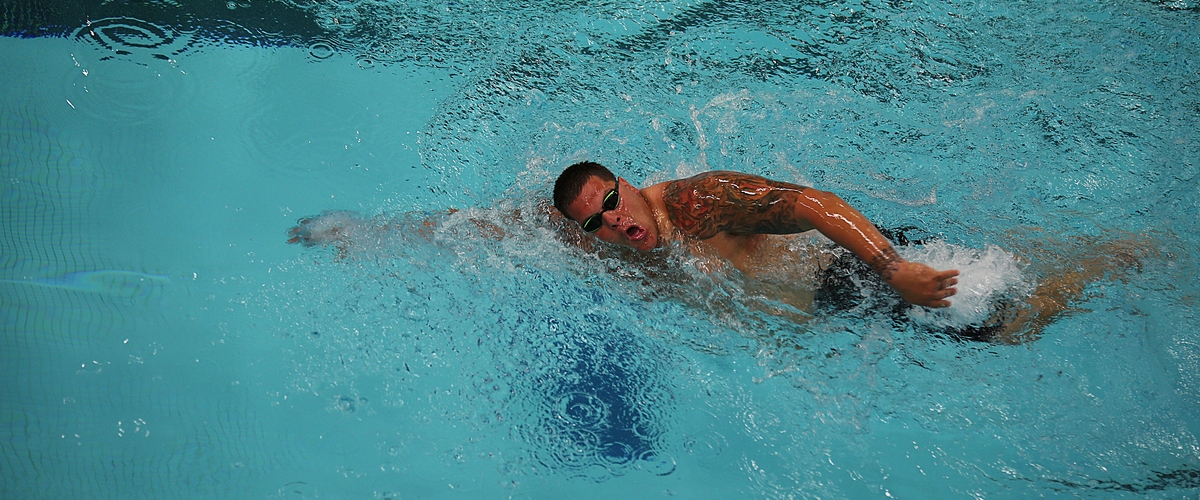 ---
Have you always wanted to incorporate swimming into your exercise routine but weren't sure where to start? Swimming provides a great cardio workout while sculpting your muscles at the same time. There's no need to plan a workout schedule to target specific areas because swimming will strengthen your entire body. The Marine Corps Aquatics Specialist has put together this simple swimming routine to help you take your workouts from the treadmill to the pool.
Warm-Up
Start your workout with a warm-up. Before getting in the water make sure to do some arm rotations, knee bends and dynamic stretching to prepare your body for your swim. When you are ready, begin your swimming workout with an in-water warm-up with a 500 yard swim at an easy pace.

Drill
Once you've finished your warm-up move on to a drill set to get your arms moving and heart rate up. A drill set will be at bit faster than your warm-up, but not as challenging as your main set. The primary goal of a drill set is to focus on good swim technique before fatigue sets in.
200 yard kick with kickboard
300 yard Pull (fingertip drag)
Main Set
The main set is the goal of your workout. Your swim workout goal can be broken into three category types: Speed/Sprinting/Lactate Threshold sets, Technique/Strength sets and Distance/Endurance sets. Each time you get into the pool your focus should be on one category. Here is an example of a main set for a Sprinting/Speed/Lactate Threshold training day:
3 x 100 yards swim hard then swim 50 yard easy
10 x 100 yards at a high level of intensity which can be maintained the entire length
2 x 100 yards starting fast and descending effort each 25 yards
Cool Down
After completing your main set, perform a quick cool down to end your swim workout such as a 400 yard swim at an easy pace.
For more tips on how to structure a swimming workout, contact your local Aquatics Specialist, or click here. To find a pool at your local installation, click here.