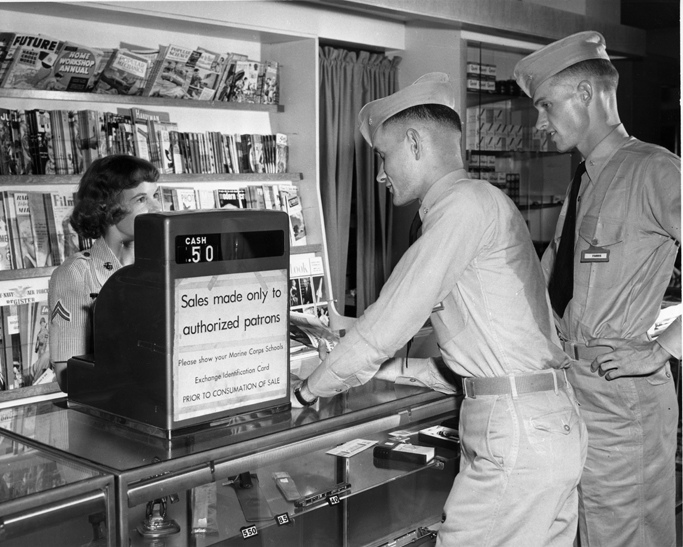 [ 1776 ] Congress authorized civilian sales concessions to be established so that Soldiers in General Washington's Continental Army could purchase items such as chewing tobacco, snuff, knives and blankets.
[ 1806 ] First official record of a "Post Trader" at a Marine Corps Post operated by Lt John Johnson, Commanding Officer of the Marine Detachment at the Navy Yard, New York.
[ 1900 ] The first overseas Marine Corps Exchanges opened at the Marine Barracks in Cavite and Olongapo in the Philippines. The MCX's open in the United States included Boston, MA, Newport, RI, League Island, PA, Annapolis, MD, Norfolk, VA, Port Royal, SC and Bremerton, WA.
[ 1950 ] There were 52 Marine Corps Exchanges in operation.
[ 1965 ] Exchange Marines were deployed with the expeditionary unit in the Dominican Republic where they established the main Exchange in a hotel and two mobile units to support outlying troops.
[ 1967 ] Exchange Marines, trained to support combat units, deployed to Vietnam. Post-Vietnam, the MCX had twenty five Exchanges in operation
[ 1990 ] Operation Desert Storm deployed 80 Exchange Marines to operate tactical field exchanges in Saudi Arabia Exchanges were operated under the most austere conditions – in tents, shipping containers and out of five-ton trucks.
[ 1997 ] MCX celebrated 100th anniversary - achieving its first million dollar sales day at a single store (Henderson Hall).
[ 2003 ] Launched the new branding campaign, featuring the now iconic MCX logo.
[ 2004 ] The MCX private label apparel brand "1775" is successfully launched.
[ 2005 ] First Civilian Marines deployed to Iraq to augment the Exchange Marines. Having Civilian Marines operate the DOX-T's allows our Exchange Marines to operate TFEs and WES teams at our forward operating bases. This is also the year the MCX introduced MCX gift cards.
[ 2011 ] MCX launched its first website and digital media presence.